Custom Control Panel Fabrication
Types Of Custom Control Panels We Offer
Local Control Panels

Local Control Panels are used for local start stop stations adjacent to equipment for desired control locally and for maintenance. Large machines may require multiple local electrical control panels at each manufacturing process. Controls may be different on each panel as the functionality of the manufacturing station differs.

Local Control Panels may also contain PLC equipment (Remote I/O). This will reduce the amount of wiring from field devices back to the Main Panel. They are also used for call conveyance systems at the production floor level to provide the ability for the line worker to initiate a call for parts as required.
Vehicle Mounted Control Panels

Vehicle Mounted Control Panels are used for vehicle mounted automated equipment such as in the Mining industry for underground Bolters.

Mounted on Tow-Motors they provide the Tow-Motor operator the ability to see part demand from the production floor and the ability to respond as prioritized.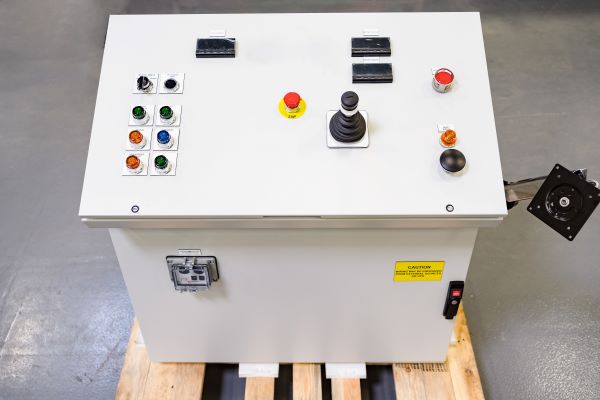 Operator Console Panels


Operator Console Panels can be configured in virtually any ergonomic design to best suit the operator. They can be constructed in a desk format so the operator can operate and monitor controls, from a sitting position, or a Pedestal design where the operator remains in a standing position. Control desks can be fitted with such options as a foot rest and stainless steel or wood desktop surface. They are used in the Mining industry for hoist control and the Steel industry to monitor overall process.
Lighting Control Panels
Lighting Control Panels are used to control an array of lights. They can be found in use for baseball field lighting, airport runway lights, large warehouse lighting, and lighting for manufacturing facilities. Lighting Control Panels can contain such features as Operator Interface screens, timing/scheduling control and smart logic. They can be constructed for both indoor and outdoor use.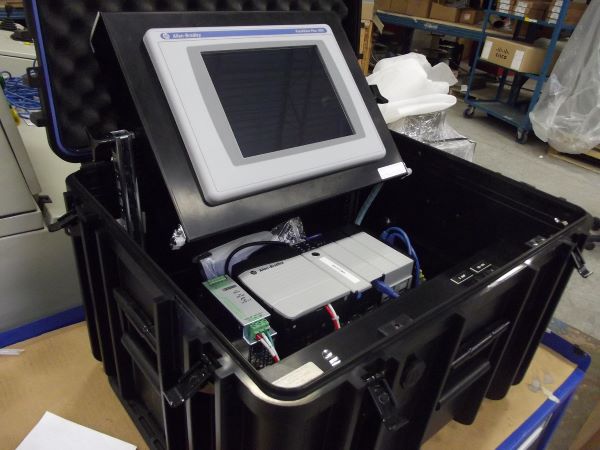 Test Panels


Test panels can be used for various applications such as motor testing, simulating I/O, software validation, and training class environments. Test Panels can  be configured based on customers' unique requirements. We can offer such features as Multiple voltage sources 230VAC, 480VAC, 575VAC, Human Machine Interface (HMI), Provisions for testing both digital and analog I/O, and various plug configurations. Test panels can be constructed in a ruggedized carrying case or for larger units, a cart style format.
Conveyor Panels
Conveyor Panels typically consist of a PLC, some HMI programming, Starters and VF Drives. More advanced systems may include a camera system for detecting flaws in parts, and barcode readers for determining the routing of which the product will be transported. Pneumatic valves may also be incorporated for such devices as mechanical stops.

Keltour has provided Conveyor Panels for various industries such as, to name a few, Automotive, Mail sorting facilities, Mining and automated assembly plants.
Food & Beverage Panels
Food & Beverage Panels are most commonly used for process control of a product, such as liquids, powders or gases. Typically, these panels consist of a PLC and HMI. The PLC can be programmed in such a manner to contain various batch recipes which can be accessed by the operator though the HMI.
Scada Panels
The hardware that resides in these enclosures are servers which support a SCADA system (Supervisory control and data acquisition). These panels typically come with equipment mounting provisions in a 19" rack mount configuration. Scada Panels features included are UPS (Uninterrupted Power Supply) backup and Ethernet network switches. A monitor and pull out keyboard may also be added for troubleshooting the servers.
Certifications and Testing
Keltour Is a CSA, UL, CE Certified shop and we offer other certification as well. For a complete list visit LEARN MORE
Stainless Steel Enclosures

Mild Steel Enclosures

Galvanized Enclosures

Aluminium Enclosures

Fibreglass enclosures

Plastic enclosures

Insulated Enclosures

Custom painted enclosures
NEMA certifications

Type 1

Type 3

Type 3R

Type 4X

Type 13

Type 4

Type 12

Division 1 and Zone 1 hazardous areas
What is a Custom Control Panel?
Keltour is one of North America's largest and most experienced custom control panel manufacturers. Our expertise and core focus has always been around custom electrical control panels. For custom applications we offer endless solutions for any of our customers' challenges.

Keltour can provide engineering design services for conceptual ideas or we can build to print for existing designs. Keltour offers customization on Steel work in a variety of materials and finishes and we offer certification on Panels for all different applications.

Examples: Explosion proof, Enclosure ratings Nema 1 through 6 Enclosures.
Industries That Benefit From Our Control Panels
Industries that benefit from Control Panels are any industry that requires a the electrical process to be controlled, measured, or monitored. An example of this would be a Farm with ponds that need to pump waste into a pit/pool that requires levels to be monitored so the waste/water can be dealt with and pumped to adjacent ponds or holding tanks. For these types of applications, clients could request or require Remote monitoring level sensors, Integrated text message alerts for different levels, or Solars powered through batteries for remote locations.
"Well organised Panel Manufacturing company. People are very helpful here, Team is excellent. Enjoyed a lot while working here." – Rutvik P
Major Manufacturing Partners For Control Panels