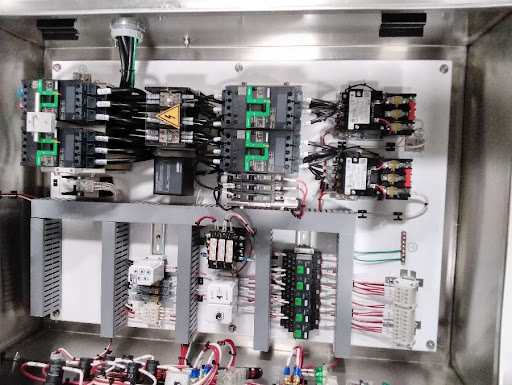 DEP control panels are typically designed to control and monitor duplex pump stations with two submersible pumps. They include the circuit breaker for each pump, a high-water alarm, and fuses for the alarm circuit. They include an automatic alternating relay which alternates between which pump runs the cycle. 
Typical control components for a DEP panel include:
Inner dead front door for the operator controls

Run pilot lights

Seal fails lights

High level light

Hand-Off-Auto switches

Time meters

GFCI Protected service receptacle

Service cutouts for breaker access

Generator receptacle

Lightning/ Surge arrestor

Interlocked Main and Emergency breakers

Undervoltage/ Phase monitor relay

NEMA starter or IEC NEMA rated contactor with overload

Alternating relay

Alarm horn and beacon with silence button
Features & Specs for Fountain Pump Panels.
Enclosures can be 304 or 316 Stainless steel, Mild Steel (Coated), Galvanized Steel, Aluminum, Fiberglass, or plastic

Insulated Enclosures available on customer request

Enclosures can be custom painted, or powder coated

Company logos and service information labels can be added to any enclosure

NEMA Type 1, 3R, 4, 4X, 12, and 13, per customer requirements
Certifications and Testing
Keltour Is a CSA, UL, CE Certified shop, and we offer other certification as well. For a complete list visit LEARN MORE
"Keltour worked on a project for us that involved the procurement of materials, assembly, wiring and FAT of over 150 open style racks. Keltour was easy to work with and provided excellent project communication during this project's timeline." – Utility Client