What is a Fountain Pump Control Panel?
A fountain pump control panel is very similar to a motor starter panel with a few more options. Additionally, fountain pump panels will typically include a separate GFCI (Ground Fault Circuit Interrupter) protected circuit for lighting.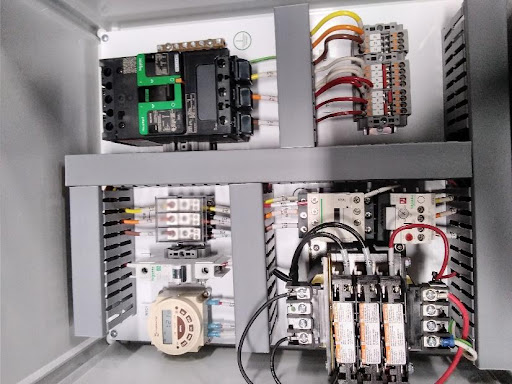 Typical fountain panel options include but are not limited to:
Single or 3 phase incoming power

Circuit breaker with contactor and overload 

MMS(Manual Motor Starter) with contactor

VFD(Variable Frequency Drive) for a smoother start and better longevity for the motor.

Single phase incoming power: assisted with capacitors or a VFD

Surge protection

Ground fault sensor protection for the motor circuit

Digital or mechanical timers for the whole panel to start or separate timers for the fountain pump and lighting circuits. 

We can also include photocells or provisions for customer supplied photocells.

Anemometer for shutting down the pump in windy conditions.
Keltour can provide engineering design services for conceptual ideas or we can build to print for existing designs. Keltour offers customization on Steel work in a variety of materials and finishes and we offer certification on Panels for all different applications.
Features & Specs for Fountain Pump Panels.
Enclosures can be 304 or 316 Stainless steel, Mild Steel (Coated), Galvanized Steel, Aluminum, Fiberglass, or plastic

Insulated Enclosures available on customer request

Enclosures can be custom painted, or powder coated

Company logos and service information labels can be added to any enclosure

NEMA Type 1, 3R, 4, 4X, 12, and 13, per customer requirements
Certifications and Testing
Keltour Is a CSA, UL, CE Certified shop, and we offer other certification as well. For a complete list visit LEARN MORE
"Keltour worked on a project for us that involved the procurement of materials, assembly, wiring and FAT of over 150 open style racks. Keltour was easy to work with and provided excellent project communication during this project's timeline." – Utility Client