E-Houses Keep Getting Bigger and Better
E-Houses are without a doubt the most efficient way for local and remote sites such as Solar Farms, Wind Farms, Utilities and more, to receive Turnkey electrical systems and power control. From its structure to installation, these e-houses keep getting bigger and better than ever.
What are E-Houses?


Here at Keltour, we design & manufacture Turnkey Electrical Houses to save businesses time and money while creating one-stop shopping. These electrical houses are typically custom built to fulfill our customers needs. Keltour e-houses are designed using customer specifications or we can provide our standard offering to get the process started.
Typical information required to quote is: 


Engineering projects–Single line drawing, P&ID or written conceptual narrative.
Pre-engineered projects –Drawings or customer BOM
Specifications that outline standard (if available)
Certifications the customer is requesting. (if available)
These portable electrical housing units are typically constructed of steel frames, walls and roof panels. Their designs are created around a footprint and location limitations and climate criteria, most houses are used as stand-alone portable units. Keltour e-house solutions are designed with portability being paramount and we ensure that the mobility of these units is achievable whenever possible.
Houses being Manufactured –
Why order an E-House?
Typically, E-houses are constructed to reduce on site work costs and hazards, Mobility of these houses allows the end customers to control costs and allow for technical work to be completed offsite.For sites that are in remote locations this is even more true. Keltour Turnkey solutions ensure all aspects of the house are integrated into the final product.
Major items we integrate are:
Power Distribution
HMI Controls
Relays Panels
Scada Cabinets
ATS
Fire Alarms
Fibre Optics
Marshalling Cabinets
HVAC Units
All of the above can be designed and built by us or we can build from pre engineered packages. The Keltour team of Engineers, Electricians,and Technicians, will integrate and test all equipment before it reaches its end location.
We offer the following services:
Engineering
Project management
E-House, P&C Panel design with complete Integration
Full project design for E-House, Electrical Panels, including
AutoCAD design software
EWD & CWD including cable schedules
Manufacturing
E-House builds and Integration
Complete Control Panels
Protection and Control Panels
Battery Banks/UPS
Scada Panels
Metering Panels
Testing
FAT Document preparation
Internal wiring/continuity checks (point to point verification)
Panel Energization
Secondary Injection During Test
Digital Input/output checks
Testing
FAT Document preparation
Internal wiring/continuity checks (point to point verification)
Panel Energization
Secondary Injection During Test
Digital Input/output checks
HI-POT Testing
Analog Current/ Voltage checks.
Download the setting file within the relays &
PLC
Commissioning
Our field support technicians have expertise and training in trouble-shooting, system debugging, programming, and systems Integration.
Examples:
Let's take a closer look at the inside of one of our e-housing projects that we completed at Keltour for one of the biggest solar farms in Canada.

Panels — Typical panels are Transmission Line Protection, Generator Protection, Scada Panels, RTU Panels, BUS Protection Panels, Transformer Protection Panels, Feeder Protection Panels, Metering Panels, Marshalling Panels, Power Distribution Panels, Fiber Optic Panels, PLC Panels, and more.
ATS disconnects- Automatic transfer switch transfer power from one source to another, this is done for multiple reasons. Onsite generator, Battery banks or multiple power sources on the incoming line.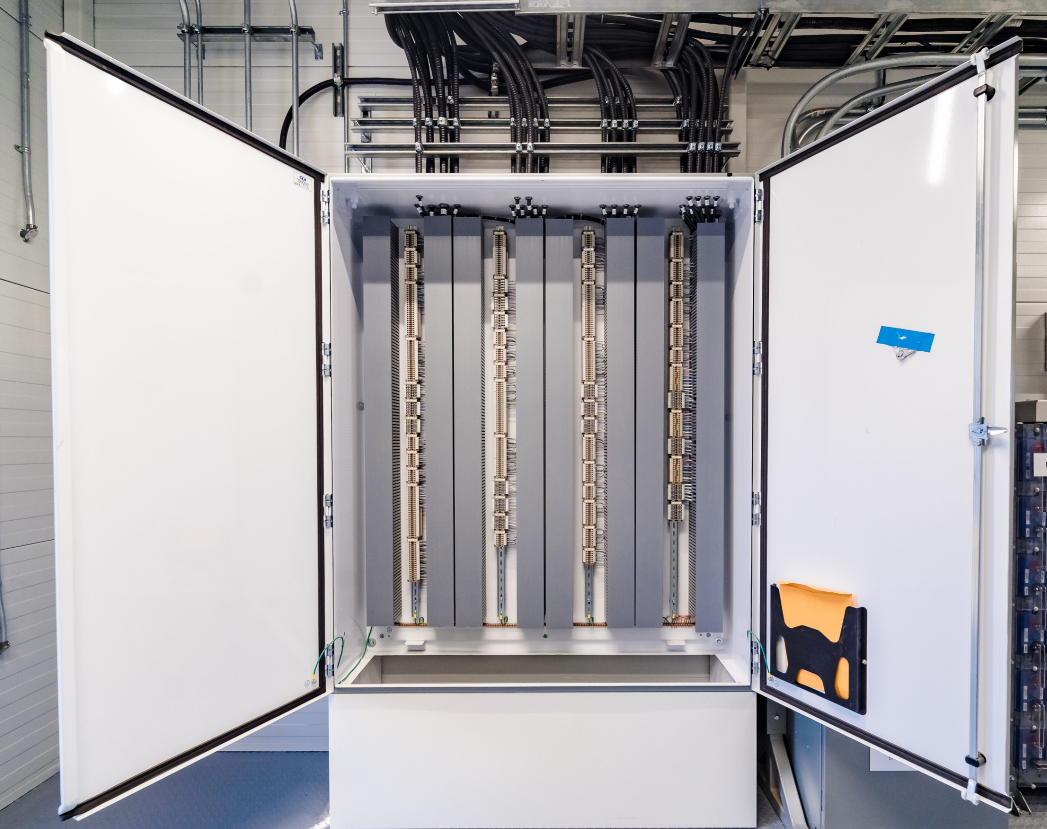 Marshalling Cabinets– Houses all the terminals for incoming connections.
2. Battery Banks– Backup Power for Critical equipment to insure communication and vital equipment stays online during power outages.
3. Charging Station– Charges the battery banks and monitors charge levels
At Keltour, your satisfaction is our top priority. We promise to design e-houses to our customers needs, in compliance with the National Building Code of Canada as well as within the means of CSA and ESA standards.
Are you interested in learning more about other products that Keltour has to offer? Feel free to visit our W

ebsite

or contact us at 1-888-335-6090 for more information!